Our Services

---
As part of our HR Big Data services, we utilize our proprietary technology to collect data from recruitment platforms all over Japan. We have collected over 2 billion job listings over the past 5 years, and transform this data into information that can be used to make data based decisions in the recruitment process.

---
Japan has a shrinking working population. This reality is at the heart of the country's economic slowdown. Our objective in Global HR is to aid Japanese companies in becoming able to utilize foreign talent to address their demand for people. We believe that this initiative will in turn make Japan a more attractive place to work in, resulting in benefits to the nation's economy as a whole.
Matching for Manufacturing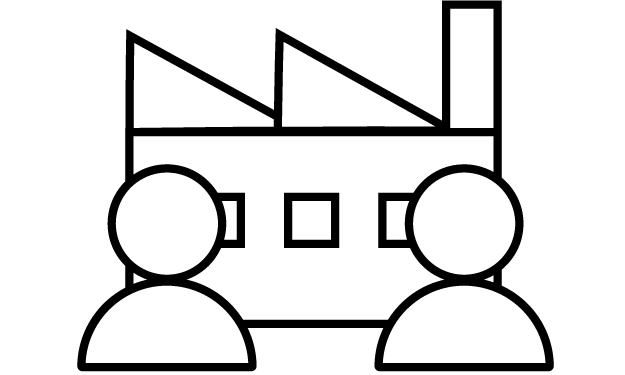 ---
The manufacturing industry in Japan is ripe for organization using the internet. At Matching for Manufacturing our goal is to create a matching platform for work, machines, and partners. In order to effectively optimize the industry we have not limited ourselves just to the web, but integrate our services into actual manufacturing and construction sites.
As The best partner
in Japan's HR Industry
Our HR Big Data services are aimed at providing client lists and marketing data, and using this data as a foundation to create strategic partnerships. We provide service branding and lead generation, as well as software improvements, development, and operations specialized for the HR industry. For hiring managers we provide support in making decisions using data about job listings and competitor hiring activities.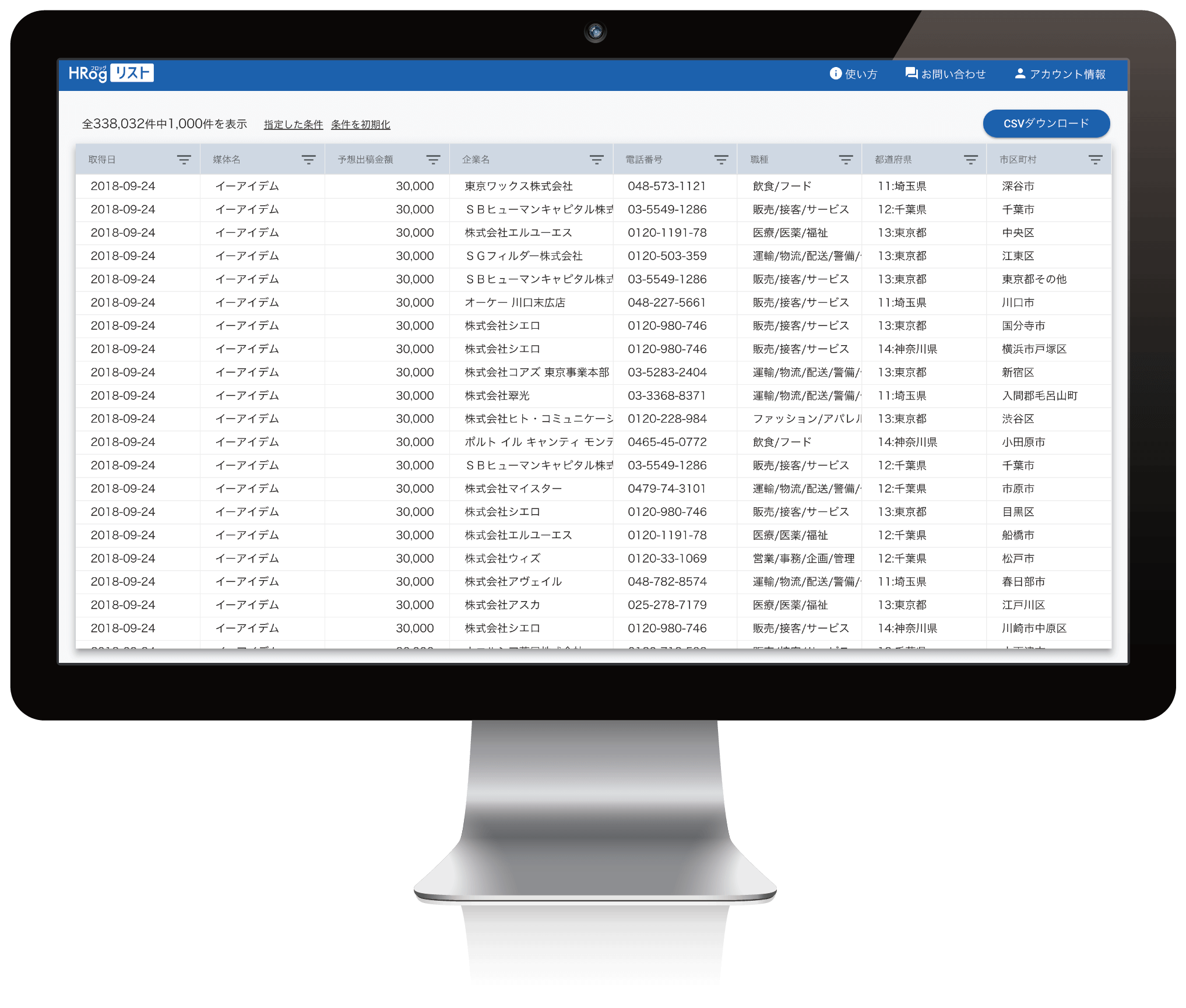 HRog
List
Curated client lists for Japan's HR industry using job listing data from all over Japan.
HRog List provides customers with job listings collected from platforms all over Japan tailored to each client. It can significantly reduce the time required to create prospective client lists, assist in making decisions regarding entering new market areas, and provide analysis of advertisements in the market.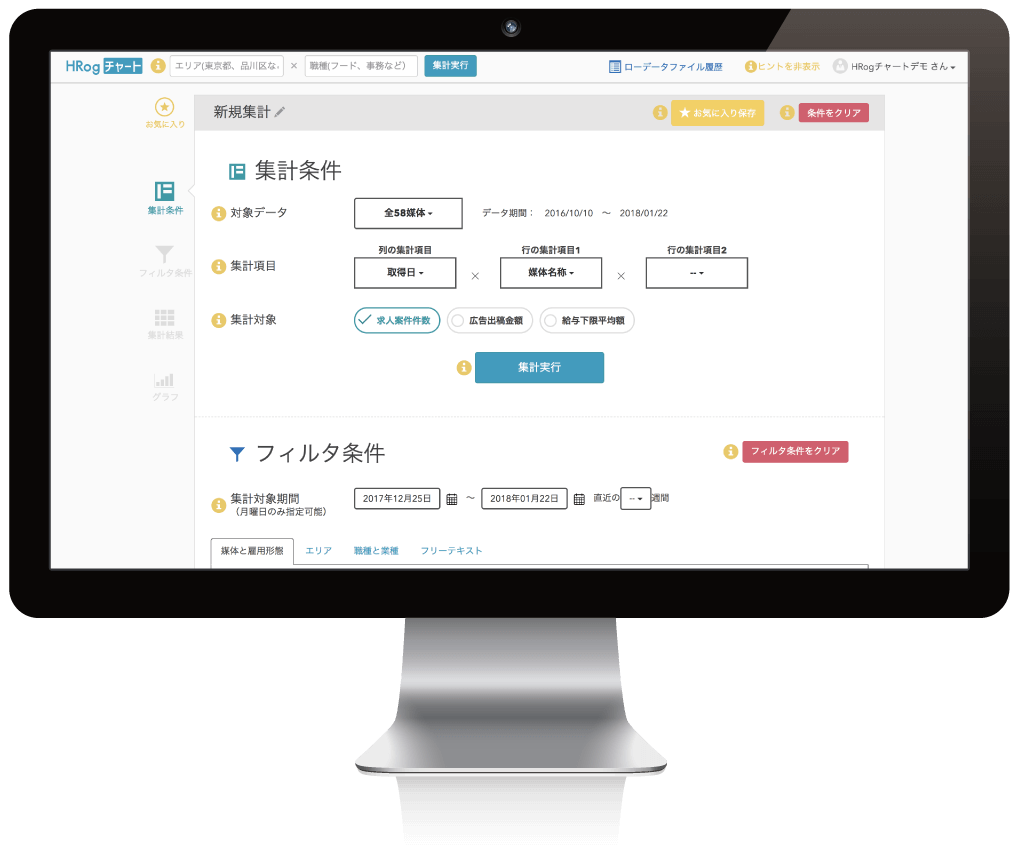 HRog
Chart
Data analytics from approximately 130 recruitment platforms to support your marketing needs
HRog Chart features the ability to analyze past data across multiple job listing platforms. Data can be transformed to compare and select across multiple axes, allowing clients to gain an understanding of current market trends, and create selective client lists based on that information.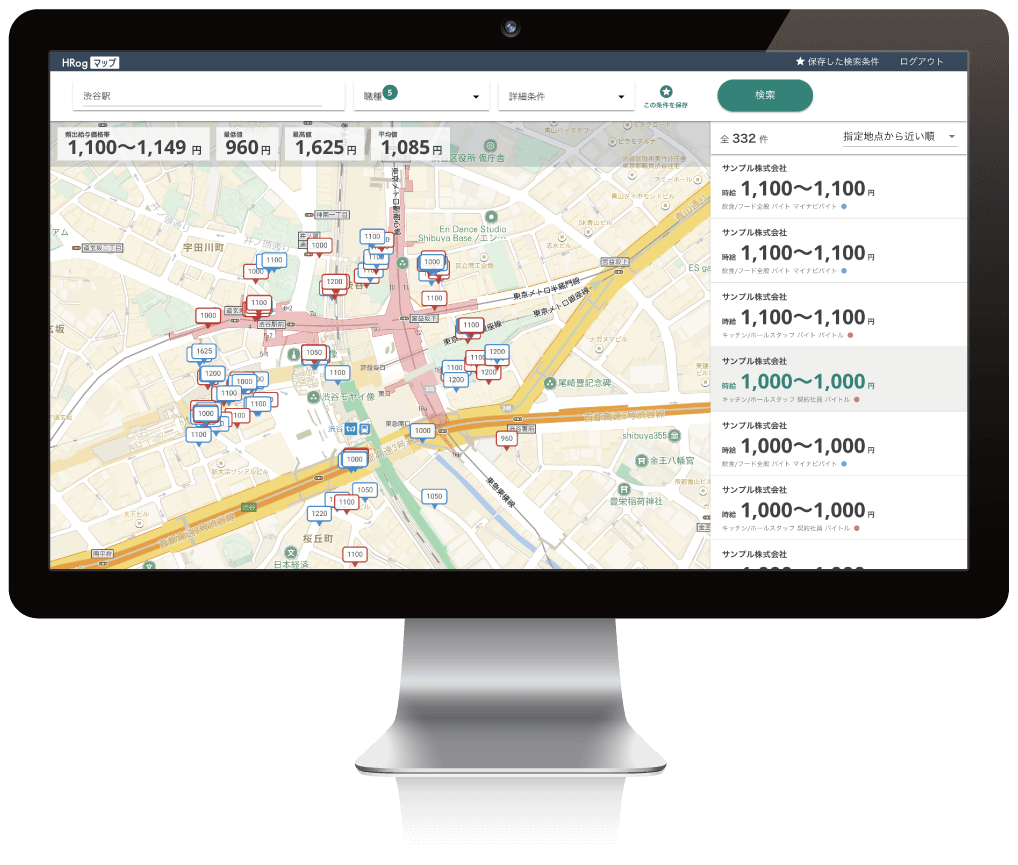 HRog
Map
Provides assistance in making HR marketing decisions using visually represented data of hourly wages in the area based on jobs.
HRog Map displays recent job postings using a map interface. It can be used to understand and visually represent the distribution of hourly pay for jobs based on area and job type, and provides information that aids in optimization of our client's job postings.
Creating a future where foreigners who want to work in Japan can easily find success.
As the reliance on the foreign talent in Japan continues to increase rapidly, the amount of information available both to potential candidates as well as employers is still lacking. Through Global HR, we aim to assist foreigners with their job hunting in Japan by providing information on the latest hiring trends, assistance in visa acquisition, resume feedback, and interview advice.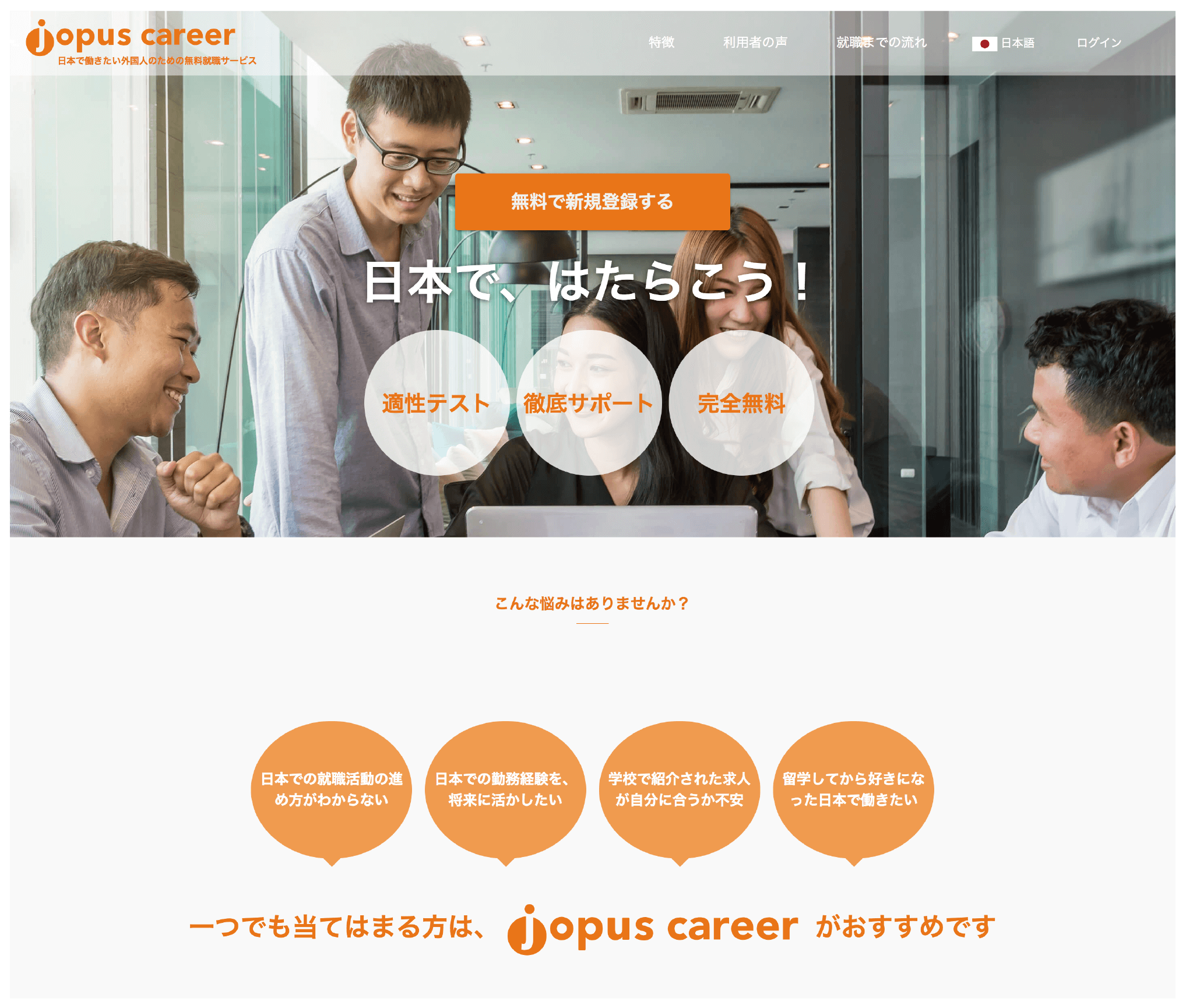 A job placement service dedicated to foreign talent
「jopus career」 is a placement service for foreigners who want to work in Japan. Applicants take our propriety aptitude test, and speak with our career consultants before being placed at companies who are looking for their talent. We also offer support after hiring.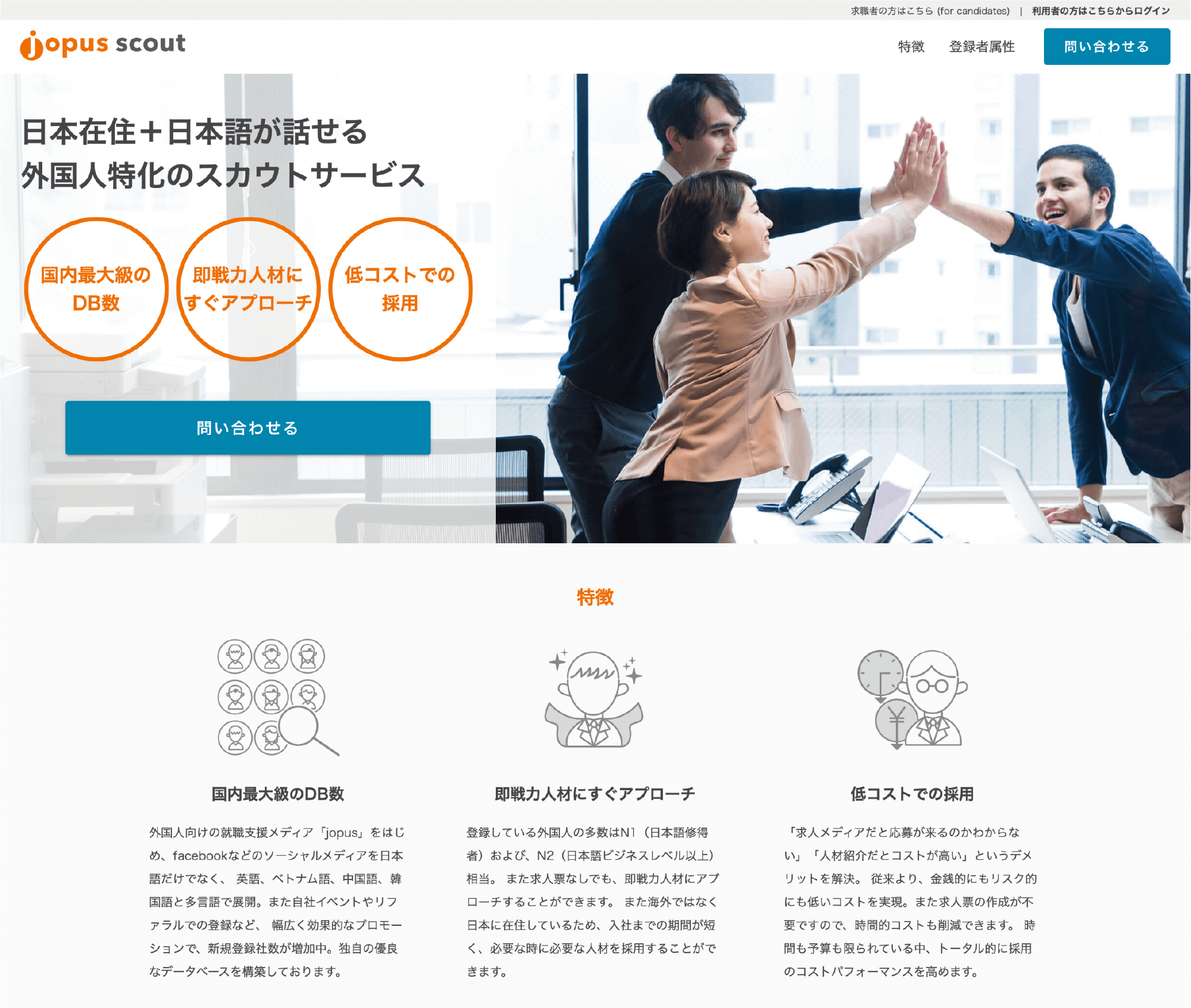 A scouting service specializing in job matching for foreign talent
「jopus scout」 is a recruitment service for foreigners who want to work in Japan. From sales and admin to engineers, we have many talented foreigners who can speak Japanese. With a simple messaging service and a low cost, it's an easy way to hire. We also offer support and advice for the visa application process.
Matching for Manufacturing
The place to solve all your
manufacturing worries
The goal of Matching for Manufacturing is to address all the prevalent concerns of the Manufacturing Industry. Today, these issues are dealt with by working together with a broad range of partners from a variety of specialities. The manufacturing industry is ripe for organization using IT to optimize current procedures of searching for partner companies, and managing distribution of machinery, and we aim to seize this chance to transform the manufacturing industry for the better.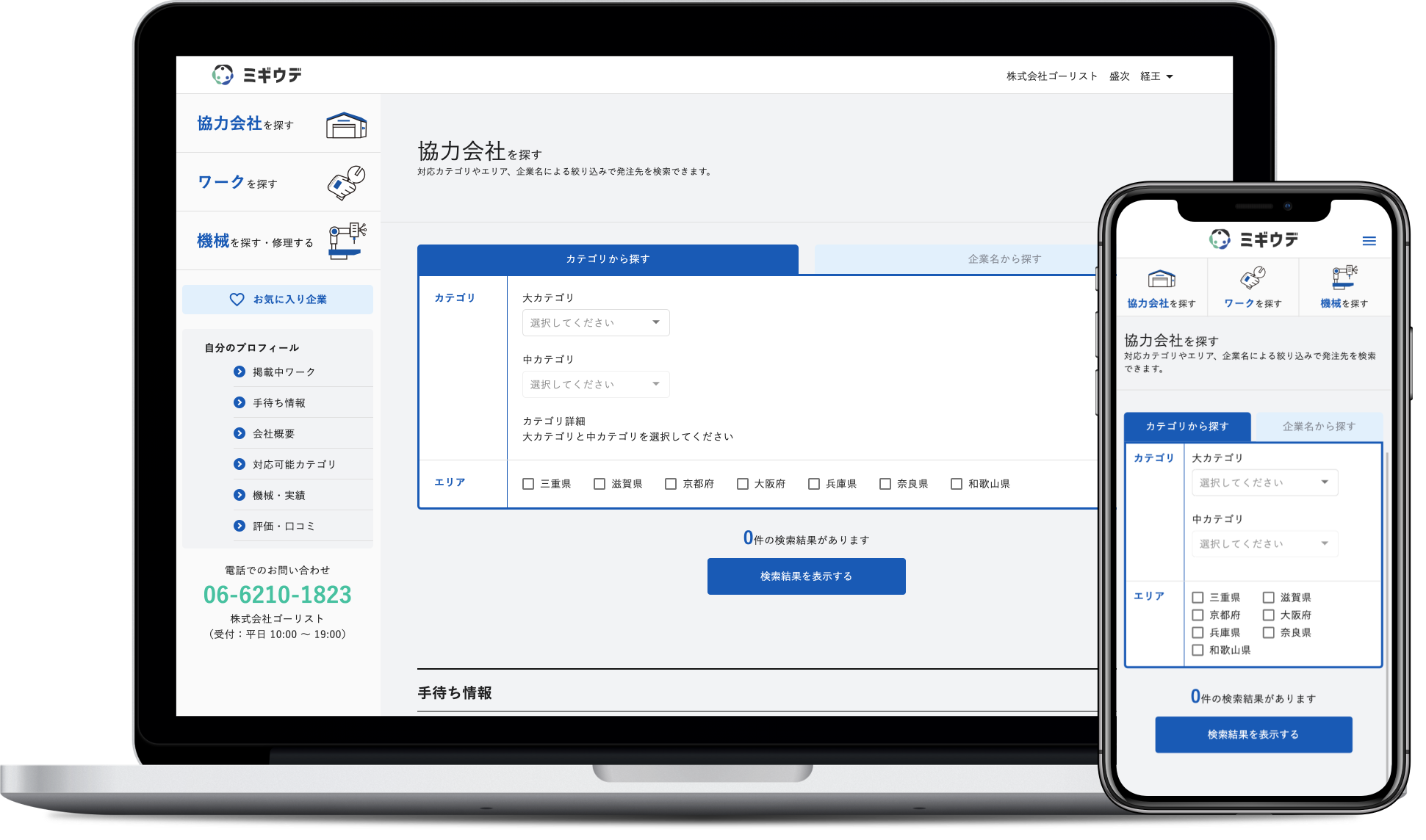 A platform that can connect you to the partners and machines you need.
Migi-ude is a comprehensive matching platform for the manufacturing industry. Various jobs, machinery, and partner companies from across the industry can be connected with for the purposes of buying, selling, or renting required machinery.